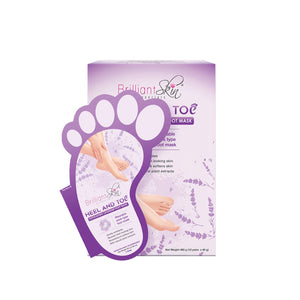 Description: 
Brilliant Skin Heel and Toe Foot Mask is wearable sock type foot mask. It is made from natural plant extracts which makes it highly effective in peeling off dead skin and dry cuticles. Watch as your feet starts to exfoliate within 3-14 days. Then, leaving you with super smooth, soft, and callus free feet.
Ingredients:
Water, Alcohol, Urea, Lactic Acid, Sodium Laureth Sulfate, Glycerin, Hydroxyethyl Cellulose, Sodium Hydroxide, Wild Mint (Mentha Arvensis) Extract, Fragrance.
Product weight: 1 pair 40 g
How to use:
After cleaning and drying your feet, take out the foot masks from the sachet.
Put on a pair of wearable sock type of foot mask.
After an hour, take off the foot mask and rinse your feet before wiping it with a dry towel.
Use only one sachet of Foot Mask EVERY MONTH.
Disclaimer for skincare products: We recommend that you read labels, warnings, and directions of all products before use. Please review the ingredients list and patch test before full application. Individual results may vary.
If use causes an adverse skin reaction, discontinue use immediately, and see your doctor or pharmacist if no relief comes from rinsing the affected area with cool water.