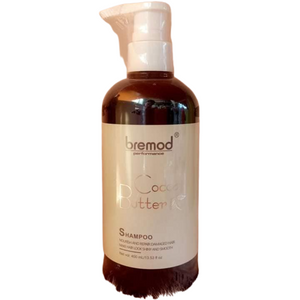 Description: 
This product is rich in cocoa seed butter polyphenols and hydrolyzed wheat protein ingredients that gives osmotic nourishment repair damaged hair has anti oxidant property and moisturize hair. It also prevents hair damage making it soft and smooth after use. The effect is better when used with Bremod Cocoa Butter Conditioner.
Product weight: 400 ml
How to use: 
Wet the hair with warm water, take suitable amount of shampoo, then apply on the middle hair to hair tail then gently rub rub until bubbles.

Wash the dirt on the hair surface for the first time. When washing hair, use finger to rub and massage for about 2 minutes.

Clean scalp hair for the second time, rub and massage for about 3 minutes.

Thoroughly clean the head with warm water and blow the hair.
Disclaimer for skincare products: We recommend that you read labels, warnings, and directions of all products before use. Please review the ingredients list and patch test before full application. Individual results may vary.
If use causes an adverse skin reaction, discontinue use immediately, and see your doctor or pharmacist if no relief comes from rinsing the affected area with cool water.