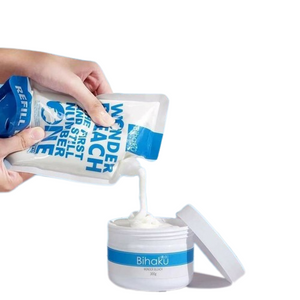 All in One Face and Body Bleaching Cream. No need to mix! Ready to use and no messy preparation. It has a micro-peeling effect and can be used as a lotion and leave on skin overnight.
Facial Moisturizer
Facial Whitening Cream or Mask
Neck Lightening Cream
Underarm Whitening Cream
Can be used as Body Whitening Lotion
Foot Spa - Whitening Cream Mask
Lightens the Knees and Elbows
Inguinal Lightening Cream
Product weight: 300g
How to use: 
Start with a clean face and body

Apply ample amount and leave it for 15 to 30 minutes or you may use it overnight
Rinse with lukewarm water and pat dry with soft towel
You may Use it everyday
Recommended Schedule of Application:
Once daily for 7 consecutive days
3 times for a week
Twice for a week
Disclaimer for skincare products: We recommend that you read labels, warnings, and directions of all products before use. Please review the ingredients list and patch test before full application. Individual results may vary.
If use causes an adverse skin reaction, discontinue use immediately, and see your doctor or pharmacist if no relief comes from rinsing the affected area with cool water.