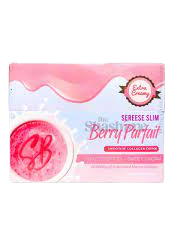 Description:
Introducing Sereese Slim Beauty Drink with three delicious flavors to choose from – Berry Parfait, Uberry, and Pistachio Cheesecake.
Made with premium ingredients and this drink is not only tasty but also great for your skin and body! 
Sereese Slim BERRY PARFAIT Smoothie Collagen Drink
Mixed Berries + Sweet Cream
- Formulated to help us get our desired skin, body and health. It boosts our immunity, good for pur heart's health and rejuvenates our body and skin.
 Ingredients:
Product weight: 21 g x 10 sachet per box
How to use: Take 1 sachet and mix it with water, either hot or cold
Disclaimer for skincare products: We recommend that you read labels, warnings, and directions of all products before use. Please review the ingredients list and patch test before full application. Individual results may vary.
If use causes an adverse skin reaction, discontinue use immediately, and see your doctor or pharmacist if no relief comes from rinsing the affected area with cool water.