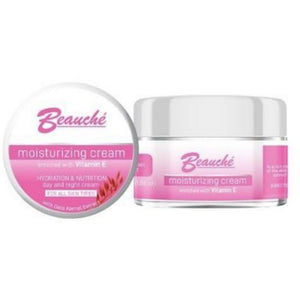 Description: 
Beauche' Moisturising Cream 30 g 
Beauche' Moisturizing Cream Enriched with Vitamin E and Aveeno Sativa (oats kernel) best for sensitive and irritated, dry skin to instantly hydrate, soothe and replenish skin's moisture barrier while leaving it resilient.
Product weight: 30 g
How to use:
Using the first two fingers of your dominant hand, apply dabs of moisturizer onto your face in the key dry areas such as your: forehead, cheeks, nose, chin, and neck.

Spread the moisturizer around the rest of your face.

Once you've blended your moisturizer into your face, allow it to dry for about 1-2 minutes.
Disclaimer for skincare products: We recommend that you read labels, warnings, and directions of all products before use. Please review the ingredients list and patch test before full application. Individual results may vary.
If use causes an adverse skin reaction, discontinue use immediately, and see your doctor or pharmacist if no relief comes from rinsing the affected area with cool water. 

Best moisturiser for sensitive skin
I'm happy that I found this beauche product. It is the only brand that suits for my sensitive skin. I tried many kinds of beauty products for my face but they just make my pimples worst. I love this beauche moisturizer, it makes my face smooth and pimple free.