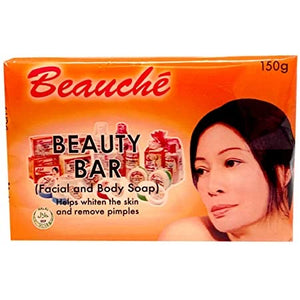 Description: 
Kojic Beauty Bar Soap
It cleanses skin and helps eliminates pimples, skin pigmentation, white heads and black heads. It restores the skin's elasticity and suppleness when it is exposed to wind, UV rays or high temperatures.
Caution: Always do a quick skin test when using new products In some extreme cases products may cause allergic reactions to acutely sensitive skin types. To be absolutely sure, you may want to test for product sensitivity. Simply apply a small amount of this product on your wrist and leave 5-10 minutes. Do not use product if irritation or redness develop.

Product weight: 90 g
How to use: Use daily as a regular soap.
Disclaimer for skincare products: We recommend that you read labels, warnings, and directions of all products before use. Please review the ingredients list and patch test before full application. Individual results may vary.
If use causes an adverse skin reaction, discontinue use immediately, and see your doctor or pharmacist if no relief comes from rinsing the affected area with cool water. 
My only soap
I have a sensitive skin, so I easily develops skin problems. I discover this soap since my early 20s until now 30s still using it as it helps my skin clear from any skin problems like keratosis and also prevents body odour.