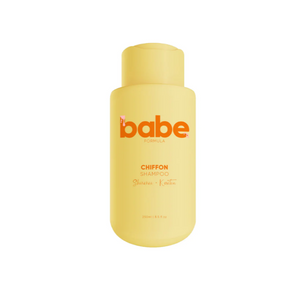 There's a new Babe treat in town! When we say we craft your haircare essentials with intentions, we're pretty serious. So we come up with Babe Chiffon Shampoo and Conditioner that's as wholesome as it gets; free from parabens, sulfates, silicones, salts, and cruelty.
The Babe Formula Chiffon Shampoo starts strong with collagen and hydrolyzed keratin protein, improving hair elasticity and relieving the hair from frizz and damage. Meanwhile, aloe vera and panthenol supports strong hair growth by preventing breakage and split ends, while the infusion of Mediterranean Pomegranate and Vitamin E improves blood circulation in the scalp. But the star of the Chiffon Shampoo formulation is the presence of Shikakai fruit extract, also known as "Fruit for the Hair"—a natural surfactant that promises a myriad of benefits: balancing oil moisture in the scalp (perfect for hot-to-cold days), restoring damaged hair, prevents dandruff, hair loss and dehydration, and—just when the temperature attempts to mess with your mane—detangles hair while keeping it smooth.
Product weight: 250ml
How to use: Wet hair with lukewarm water. Apply a little Babe Formula shampoo and work out a rich lather. Leave on for 2-3 minutes. Rinse thoroughly. Squeeze out excess water then rinse again. Use conditioner to enjoy hair that smells and feels great all day!
Disclaimer for skincare products: We recommend that you read labels, warnings, and directions of all products before use. Please review the ingredients list and patch test before full application. Individual results may vary.
If use causes an adverse skin reaction, discontinue use immediately, and see your doctor or pharmacist if no relief comes from rinsing the affected area with cool water.