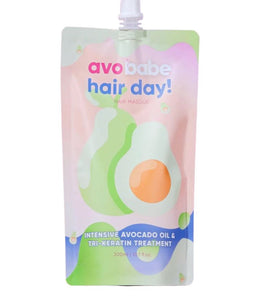 Description: 
Revive your frizzy, damaged hair with our best-selling Avo Babe Hair Day Hair Masque. It's rich but non-sticky formulation of Avocado Oil, Tri-Keratin, Vitamin E, and Oleic Acid will bring your hair back to life.
Whatever your hair issue is - hair breakage, split ends, dandruff and dryness, solve it once and for all with the hydrating fusion of avocado oil and tri-keratin! Your favorite hair care treatment now comes in a 300g Refill pack!
Contains Avocado Oil, which contains rich oleic acid and monounsaturated fats, making it one of the few oils that can actually penetrate the hair shaft and deeply moisturize strands
Further enriched with vitamin E to give your hair natural UV protection
Added vitamins and nutrients keep both hair and scalp healthy
Infused with Keratin for a much-needed protein boost that leaves your locks healthy, happy, and looking lustrous
Restores life to dull tresses damaged by chemical treatments
Perfect for treating hair breakage, split ends, dandruff and dryness
Product weight: 300 mL
How to use:
Apply a generous amount of Avo Babe Hair Day! Hair Masque, working through the hair thoroughly.

Wrap hair in a shower cap or a towel for at least 20 minutes or longer, depending on hair's condition.

Rinse completely with lukewarm water.
Disclaimer for skincare products: We recommend that you read labels, warnings, and directions of all products before use. Please review the ingredients list and patch test before full application. Individual results may vary.
If use causes an adverse skin reaction, discontinue use immediately, and see your doctor or pharmacist if no relief comes from rinsing the affected area with cool water.