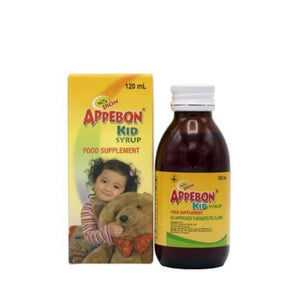 Description: 
Appebon Kid Syrup is now in Australia.
Vitamin B-Complex + Iron (Appebon Kid) is a red-colored, fruity-flavored clear syrup. Appebon Kid Syrup is a supplement to help provide children with nutrients essential for energy and to help improve appetite.
Features and Details:
Iron + Vitamin B-Complex + Lysine

Appetite Stimulant
Product weight: available in 60 mL and 120 mL
How to use: The recommended dosage is 5mL or (1 teaspoon) once a day or as prescribed by your Pediatrician.
Disclaimer for supplements: 
Appebon®

 

is ideal for children aged 2-12 years old only. 
It is always best to consult your doctor or pediatrician before giving any supplement or medication to your child. 

No approved therapeutic claims.