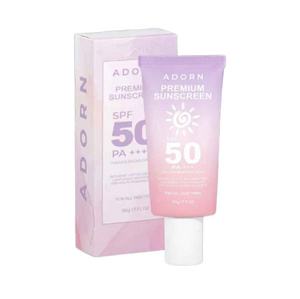 Description:
Adorn's Sunscreen offers high broad-spectrum sun protection for the face against harmful UVA/UVB rays. It is enriched with premium hyaluronic acid, which has an antioxidant effect and helps to preserve tighter skin while protecting your face from the damaging effects of UV radiation. It contains Centella Asiatica extract, which can increase moisture and defend your skin from free radical damage, restoring and maintaining the natural barrier of your skin. It has active ingredients that evens out your skin tone and conceals fine lines, wrinkles and dark spots while protecting your skin from the sun.
Product weight:  50g
How to use: Apply a generous amount of Adorn Premium Sunscreen 15 minutes before sun exposure. Don't forget to reapply after 4 hours especially when you are in vacation or swimming.
Disclaimer for skincare products: We recommend that you read labels, warnings, and directions of all products before use. Please review the ingredients list and patch test before full application. Individual results may vary.
If use causes an adverse skin reaction, discontinue use immediately, and see your doctor or pharmacist if no relief comes from rinsing the affected area with cool water.