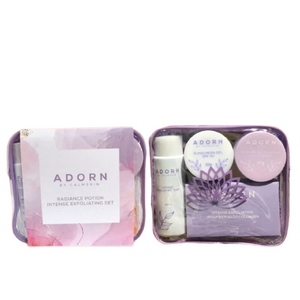 Description:
The Intense Rejuvenating Product that you will surely love is now available!
Quickly reduces signs of aging, dark spots, and pimple marks and effectively prevents breakouts and drying of the skin.

Have a new sense of confidence and beautiful skin with our Radiance Potion Intense Exfoliating Set

Achieve your glowing face with our Adorn Radiance Potion Intense Exfoliating Set
Provides extensive whitening
It gives skin a quick hydration boost without clogging pores to effectively prevent breakouts and drying of the skin, maintaining it firm, soft, and smooth.
Intensively reduces signs of aging, dark spots, and pimple marks.

 
Inclusions:

 Exfoliating Toner 60ml
 Sunscreen Gel SPF45 10g
 Exfoliating Night Cream 10g
 Exfoliating Soap with Collagen 100g
How to Use:
Step 1: Adorn Exfoliating Soap
Wash your face using the Adorn Intense Exfoliating Soap bar. Lather on your hand and apply on your face in a circular motion for 10-15 seconds then rinse gently

Step 2: Adorn Exfoliating Toner
Softly apply the day and night adorn exfoliating toner all over your face with cotton pads/balls.

Step 3: Adorn Sunscreen Gel
After using the toner, apply an ample of adorn intense sunscreen all over your face in day time and wait for 10 to 15 mins before sun exposure.

Step 4: Adorn Night Cream
Apply a thin later of intense exfoliating night cream all over your face & gently massage your face using your clean hands. Use this every night
Disclaimer for skincare products: We recommend that you read labels, warnings, and directions of all products before use. Please review the ingredients list and patch test before full application. Individual results may vary.
If use causes an adverse skin reaction, discontinue use immediately, and see your doctor or pharmacist if no relief comes from rinsing the affected area with cool water.