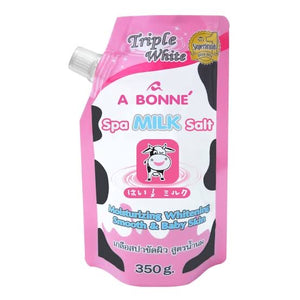 Description: 
Experience a smooth milky pick me up this dark rainy season. Bathe and feed your skin with our classic A Bonne' Spa Milk Salt.
Spa Milk Salt is a skin whitening and slimming product with Milk formula and natural spa benefits. Its provides nourishment to your skin with pure Milk and Derma White. It also removes dirt deposit and dead skin cells from your body, giving you a new and radiant skin. 
Product weight: 350 g
How to use:
Pour Spa Milk Salt on your palm.

Rub gently in circular motion on wet skin. Leave it on your skin for 3 minutes, then rinse off clean water.

After use, you can feel your skin's softness and smoothness. 
Disclaimer for skincare products: We recommend that you read labels, warnings, and directions of all products before use. Please review the ingredients list and patch test before full application. Individual results may vary.
If use causes an adverse skin reaction, discontinue use immediately, and see your doctor or pharmacist if no relief comes from rinsing the affected area with cool water.




Highly recommend this product for smoothing and whitening your skin
Whitening product in Australia
I use this product since i was in Indonesia and finally i can get the product here in Australia. Good things 💗
Classic scrub!
Ive been using this since highschool! Good thing it's now in Australia!