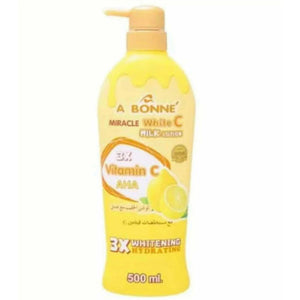 Description: 
A Bonne' Miracle White C Milk Lotion protects, lightens, and nourishes your skin. 
Milk Protein, Vitamin C, and Royal Honey are easily absorbed by your skin making skin more radiant and beautiful.
A Bonne' Lotion is used after bathing for severely dry skin, consists  of ingredients derived from nature, helps deeply in lightening, nourishing, and moisturizing the skin. A Bonne' Lotion contains a light solution easily absorbed, leave non-greasy on the skin, UVA, UVB are protected.
Product weight: 500 mL
How to use: Apply A Bonne' Miracle White C Milk Lotion all over the body. Skin will become radiant and its tone will be naturally lightened after daily use.
Disclaimer for skincare products: We recommend that you read labels, warnings, and directions of all products before use. Please review the ingredients list and patch test before full application. Individual results may vary.
If use causes an adverse skin reaction, discontinue use immediately, and see your doctor or pharmacist if no relief comes from rinsing the affected area with cool water.