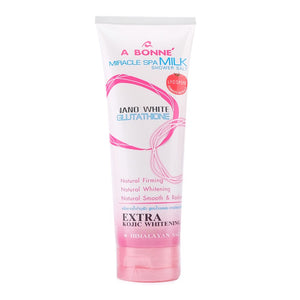 Description: 
This is a Home Spa product for bathing and indulging yourself. It selected Micronized Salt is suitable when scrubbing. It effectively exfoliates weathered skin cells without irritation and opens up new ones of brightened, smooth and radiant look with tomato extract which is rich in Lycopene it helps fight free radicals and prevents wrinkles, keeping the skin soft and smooth.
MILK PROTEIN moisturizes skin, rendering it irresistibly soft, smooth and supply.
NANOWHITE GLUTATHIONE reduces dark spots and slows down pigmentation; lightens skin tone naturally.
KOJIC prevents melanin formation, conditions skin so that melasma, freckles and dark spots gradually fade away.
TOMATO EXTRACT is rich with LYCOPENE which fights free radicals, prevents wrinkles, keeping skin soft and smooth.
Product weight: 350 g
How to use: Apply A Bonne' Miracle Spa Milk UV Whitening lotion all over the body. Skin will become radiant and its tone will be naturally lightened after daily use.
Disclaimer for skincare products: We recommend that you read labels, warnings, and directions of all products before use. Please review the ingredients list and patch test before full application. Individual results may vary.
If use causes an adverse skin reaction, discontinue use immediately, and see your doctor or pharmacist if no relief comes from rinsing the affected area with cool water.