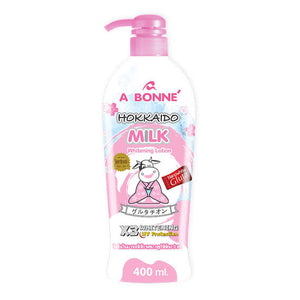 Description:
A Bonne Hokkaido Milk Nanowhite Gluta Whitening Lotion 500ml
A Bonne Hokkaido Milk Nano white Gluta Whitening Lotion
 is a rich and smooth lotion, formulated with Milk Extract from Hokkaido and Glutathione Nano whites to soften and brighten your skin.
- Glutathione Nano White. including Glutathione, Natural Arbutin and Vitamin C, 
is triple activities for skin brightening.
- Hokkaido Milk, enriched triple proteins, improves dry skin's condition. 
It provides intense moisture, boosts skin's hydration, and gets beautifully radiant skin.
- Vitamin C, Vitamin E are excellent antioxidants, 
which are added to renew and nourish your skin
Product weight: 500 mL
How to use:
Add a dollop to your hand

Rub your palms together to warm up the lotion.

Use your hands to massage the lotion into your body in small circular motions.
Disclaimer for skincare products: We recommend that you read labels, warnings, and directions of all products before use. Please review the ingredients list and patch test before full application. Individual results may vary.
If use causes an adverse skin reaction, discontinue use immediately, and see your doctor or pharmacist if no relief comes from rinsing the affected area with cool water.
I usually used this product back in the Phillippines since 201, really perfect for your skin if you want to achieve the glow and the white skin results.
Best lotion
📌📌 HIGHLY RECOMMENDED 📌📌
I've been using this beautiful lotion for almost 2 months now and my skin has been smoother and lighter. I try to use it on my face and WOW I can't believe with the result ! It's just gives u smooth texture and whitens skin, smells so good! 🥰🥰🥰 should order heaps! 😘
Smooth skin ever
I think I ordered this beaut 3 times already and it's absolutely my fave gives you smooth skin and I can feel it when I touch my skin😄 love how this little gem in a bottle can gives my morena skin 1-2 shades lighter than my own skin will definitely order more now that I know glam is here to provide me my Philippines/Thai fave beauty product and love when I was still in phil
Best ever lotion I ever applied on my skin
Shocked me the first time I used this product. The smell is amazing my skin feels soft and smells like divine. Will buy more and more 😩😜
Fave!!!
Of all the Abonne lotion's I've tried, this one is my favourite. I love the subtle smell, makes me remember the Cherry Blossoms in Japan.