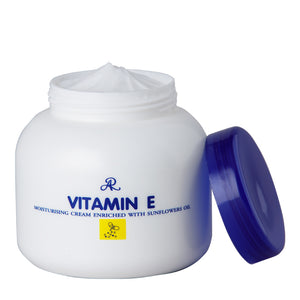 Description:
Moisturizer for face and body with a high content of vitamin E and sunflower oil from Thailand. Cream with vitamin E will moisturize the skin, eliminate dryness. It is suitable for skin care of face, hands, feet and body, especially suitable for rough skin on knees, elbows, soles of the feet. It has a nice neutral smell and is easily absorbed into the skin without leaving a greasy residue on the skin and is very moisturizing, it is ideal for tight skin, smoothes fine facial wrinkles due to the natural ingredients and oils that make the cream. Well suited for even the most dry and rough skin. It is ideal for moisturizing the skin after sun exposure, instantly calming the skin. It is rich in vitamin E and oil of sunflower seeds, beeswax, contains highly moisturizing skin with natural oils. Suitable for all skin types, especially for rough and dry skin. Delicate, airy, not greasy, not sticky, easily absorbed into the skin.
CLAIM TO FAME: A moisturizing cream made with vitamin E for younger-looking skin

FAST FACTS: Provides protection to the skin and gives it a smoother, healthier glow; enriched with sunflower seed oil, beeswax, and other natural oils that effectively moisturize the skin; has a nice, neutral smell; easily absorbed by the skin without leaving a greasy residue; smooths fine wrinkles; improves the skin's moisture balance; reduces dryness, cracking, irritation, dark circles, and dark spots; protects the skin from harmful UV rays

PERFECT FOR: Healthy, glowing skin  
INGREDIENTS: Extract of Sunflower Seeds; Vitamin E; Beeswax; Lanolin Oil; Mineral Oil; Glycerin
Product weight: 200 g
How to use: Apply cream all over your face or body. Especially the dry spot anytime you want.
Disclaimer for skincare products: We recommend that you read labels, warnings, and directions of all products before use. Please review the ingredients list and patch test before full application. Individual results may vary.
If use causes an adverse skin reaction, discontinue use immediately, and see your doctor or pharmacist if no relief comes from rinsing the affected area with cool water.