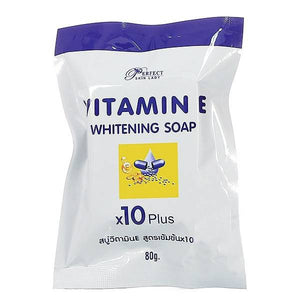 Description:
AR Vitamin E Soap

Product from Thailand 
Contains Vitamin E, a well-known powerful antioxidant with great anti-aging properties; it is an excellent free radical scavenger, vital in protecting skin cells from pollution, UV light and elements that produce cell damaging free radicals.
Helps cleanse and moisturise the skin while keeping it soft, supple and fresh.
Helps reduce freckles, dark spots, brighten skin.
Helps tighten pores collagen helps reduce skin hole grooves
Strengthens collagen in the skin layer
Make the skin smoother
Helps to reduce wrinkles Anti-free radicals
Tighten skin
Safe for pregnant and lactating moms
100% authentic

Made in Thailand
Product weight: 80 g
How to use:
Work the soap into a nice lather and apply it onto your face or body.

Gently massage it into your skin using circular motions.

Make sure you don't scrub so hard that you irritate your skin.
Disclaimer for skincare products: We recommend that you read labels, warnings, and directions of all products before use. Please review the ingredients list and patch test before full application. Individual results may vary.
If use causes an adverse skin reaction, discontinue use immediately, and see your doctor or pharmacist if no relief comes from rinsing the affected area with cool water.