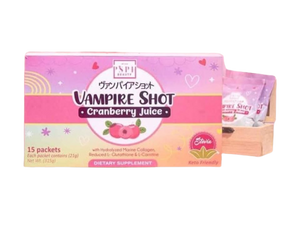 Description:
Vampire Shot Cranberry Juice gives you the figure you've always wanted and makes you glow like never before.
Beauty and health benefits:
Healthy skin, hair and nails
Weight loss
Antioxidant
No bloating
Uses Stevia
Product weight: 315 g
How to use: Take 1-3 glasses of Vampire Shot before meals, to help suppress your appetite and keep you full.
Disclaimer for supplements: 
For adult use only. Keep out of reach of children. Not intended for children, pregnant, and lactating women.

If you are taking medication, consult your doctor before use.

Please consume 1-2 glasses of water after drinking the supplement.

No approved therapeutic claims.
PSPH Vampire Shot
PSPH Vampire Shot makes me forget my night cravings and endless afternoon snacking.