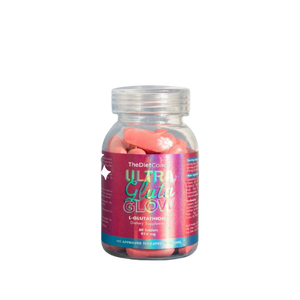 Description:
Ultra Gluta was specially formulated to give you a healthy and pinkish radiant look. Everything your skin will ever need is in one convenient capsule. Its unique and world-class formulation gives you the best skin anybody could ever dream of!
Serving Suggestions:
Serving Size: 1 tablet
Servings per Bottle: 974 mg (30 tablets)
Ingredients:
L-Glutathione, L-cysteine, Vitamin B3, Vitamin C, Vitamin-E, Alpha Lipoic Acid, Rose Hips, Zinc, Microcrystalline cellulose, silica and vegetable stearate
How to use: Take one tablet at a time on an empty stomach. You can take a maximum of 2 tablets a day, but not at the same time. 
Disclaimer for supplements: 
For adult use only. Keep out of reach of children. Not intended for children, pregnant, and lactating women.

If you are taking medication, consult your doctor before use.

Please consume 1-2 glasses of water after drinking the supplement.

No approved therapeutic claims