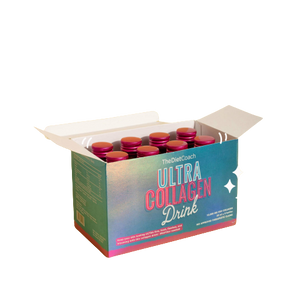 Description:
Ultra Collagen Drink contains 10,000 mg of fish collagen. Fish collagen is rich in glycine and proline, which enrich and protect cells in the body. Both stimulate the production of collagen in the body, which means plump, vibrant, and selfie-ready looking skin. 
Ingredients:

Fish Collagen

Grape fructose liquid sugar

Therapiesz, Acidulate

Flavour Sweetener (Sucralose),

Egg-white lysozyme
Product weight: 50 mL x 8 bottles
How to use: Take the contents of the whole bottle and expect Ultra desirable changes in your skin, hair and even nails! Watch out for immensely moisturized and plump looking skin. Take 1 bottle a day for best results. A bottle a day, keeps the skin Ultra Okay! 
Disclaimer for supplements: 
For adult use only. Keep out of reach of children. Not intended for children, pregnant, and lactating women.

If you are taking medication, consult your doctor before use.

Please consume 1-2 glasses of water after drinking the supplement.

No approved therapeutic claims.