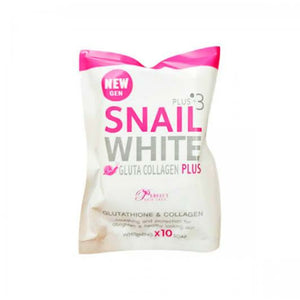 Description:
This soap contains glutathione & is tested & proven to whiten the complexion while maintaining a smooth & soft skin with a lighter & firmer texture. It is specifically formulated to solve skin problems, reduce oil/sebum production, diminish acne, acne marks, dark spots, wrinkles & repair imperfections to promote a healthy & glowing skin. It's very safe & gentle even on a sensitive skin.
It contains mixture of glutathione, snail secretion filtrate and selected nano vitamins that promote skin nourishing and whitening.
BENEFITS:
Reduces acnes and dark spots

Whitens dull and dark areas

Controls excessive oil/sebum production to achieve healthy looking skin

Can be used for both the body and face.
Product weight: 70 g
How to use: 
As facial soap, lather and apply on face. Leave it for 1 minute.

Rinse.

As a body soap, apply on to the body and leave it for 3 minutes. Gently rub skin to easily remove scurf. Rinse.
Disclaimer for skincare products: We recommend that you read labels, warnings, and directions of all products before use. Please review the ingredients list and patch test before full application. Individual results may vary.
If use causes an adverse skin reaction, discontinue use immediately, and see your doctor or pharmacist if no relief comes from rinsing the affected area with cool water.