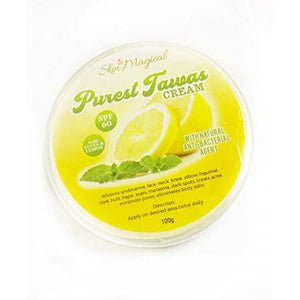 Description:
Our Purest Tawas Cream provides deodorizing and whitening effect on your skin.
It is with natural antibacterial agent that treats acne, minimizes pores and eliminate body odor. 
Purest Tawas Cream is your All-in-One cream. 
I
t has SPF 60, Gluta
and natural antibacterial agent. Whitens underarm, face, neck, knee, elbow inguinal, dark butt, nape, scars, melasma, dark spots, treats acne, minimize pores, eliminates body odor.
Dark Underarms? Dark Elbows? Dark Knees? Let us help you with our PUREST TAWAS CREAM.
Look and feel fresh with purest tawas cream, formulated with gluta and lemon, and with natural antibacterial agent. This cream has its whitening effect and ensures your skin to stay smooth and refresh in a subtle way.
BENEFITS:
Provides deodorizing and whitening effect on your skin
With natural anti-bacterial agent that treats acne, minimizes pores and eliminates body odor
Whitens pimple marks, underarm, inguinal areas, elbows and knees, butt, inner thighs
Moisturizes skin
Product weight: 100 g
How to use: Use twice daily after cleansing.
Disclaimer for skincare products: We recommend that you read labels, warnings, and directions of all products before use. Please review the ingredients list and patch test before full application. Individual results may vary.
If use causes an adverse skin reaction, discontinue use immediately, and see your doctor or pharmacist if no relief comes from rinsing the affected area with cool water.