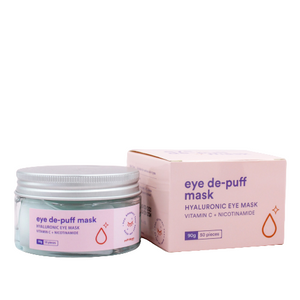 Description:
Puff Bloom Eye De-Puff Mask with Hyaluronic, Vitamin C & Nicotinamide

Plump, moisturise, and soothe the eye area with our Puff and Bloom Eye De-Puff Hyaluronic Eye Mask. Eliminate fine lines, puffiness and dark circles. This includes sets of eye masks that nourish and brighten the skin. These refreshing eye masks deliver intense hydration and soothing ingredients to the delicate eye area to help reawaken tired eyes.

Let your eyes shine, bloomies!
Product weight:  90 g x 50 pcs
How to use: 
1. Use the small shovel in box to pick up the eye mask, and apply it on the desired area.
2. Remove after 10-15 minutes.
3. After taking it off, gently pat the skin area to fully absorb the essence. Use 4x a week
Disclaimer for skincare products: We recommend that you read labels, warnings, and directions of all products before use. Please review the ingredients list and patch test before full application. Individual results may vary.
If use causes an adverse skin reaction, discontinue use immediately, and see your doctor or pharmacist if no relief comes from rinsing the affected area with cool water.