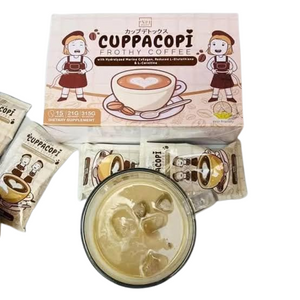 Description:
Enjoy PERFECT BARISTA QUALITY COFFEE in an instant with #Cuppacopi FROTHY COFFEE.
Our premium coffee undergone a unique drying process to intensely preserve flavour and aroma at a much very high level than others.
Arabica Coffee
Green Coffee
Green Tea
Aloe Vera
L-carnitine
Garcinia Cambogia
Mangosteen
Barley
Guarana
Korean Ginseng
Reduced L-Gluta.thione
Hydrolyzed marine colla.gen
Non-dairy creamer
Stevia
Product weight: 315 g
How to use: Pour 1 sachet of PSPH Cuppacopi into 150ml cold or hot water. Stir well.
Disclaimer for supplements: 
For adult use only. Keep out of reach of children. Not intended for children, pregnant, and lactating women.

If you are taking medication, consult your doctor before use.

Please consume 1-2 glasses of water after drinking the supplement.

No approved therapeutic claims.
😋
First time to try and worth it!!! Apart from being served as a hot drink (which I prefer), it makes you full that you won't even feel hungry even after your next meal. This experience of mine is worth to share.