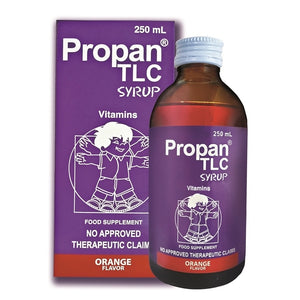 Description:
Propan TLC Drops is an orange-flavored vitamin preparation with Taurine plus Chlorella Growth Factor. It is recommended as a dietary supplement for infants to help promote growth, strength, and good health.
Propan TLC Syrup is an orange-flavored preparation that contains essential vitamins that aid and maintain normal levels of all necessary nutrition of the body for optimum growth and development. It also has important amino acids, Taurine, Lysine and Chlorella Growth Factor, the source of building materials for muscles, blood, skin, hair, nails and internal organs, including the heart and the brain.
With Vitamin C for Immunity
With Lysine and B vitamins that helps boost and increase Appetite
With CGF and Vitamin D that helps with growth 
Product weight: 250 mL
How to use: To be taken once a day or as prescribed by the physician.
Disclaimer for supplements:

Propan TLC Syrup is ideal for children aged 2-12 years old only.
It is always best to consult your doctor or pediatrician before giving any supplement or medication to your child.
No approved therapeutic claims. 
Propan TLC
My Daughter loves it, and gana sa pagkain and sarap ng tulog.