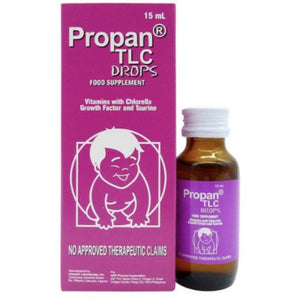 Description:
Propan TLC Oral Drops

Vitamin preparation with Chlorella Growth Factor, Vitamin C, Taurine and essential vitamins for your infant's daily nutritional needs.
Indications:
Helps with optimum growth, strength & good health.
Product weight: 15 mL
How to use:
Take once daily or as prescribed by the physician
Shake well (contains chlorella insoluble particles)
Disclaimer for supplements:

Propan TLC Oral Drops is ideal for children aged 7 months- 2 years old only.
It is always best to consult your doctor or pediatrician before giving any supplement or medication to your child.
No approved therapeutic claims.