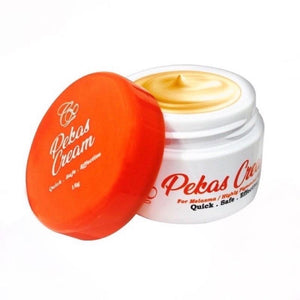 Description:
What Causes Pekas?
When skin cells produce more melanin, it causes Melasma. From here the "melasma" term came from. Skin cells produce more melanin for several reasons. such as:
Over exposure to sunlight.
Changing environments.
Hormonal factors are believed to trigger melasma. It can be associated with pregnancy..
Pekas Cream Benefits:
Reduces the appearance of melasma.
Balances skin tone.
Lightens discoloration of the skin.
Product weight: 15 g
How to use:
Cleanse your face with your favorite soap.
Use any toner. Preferably, Pekas Toner By Crystal Infinity.
Put an ample amount of Pekas Remover Cream all over your face at night.
Let it dry.
Put some cream one more time after 30 mins.
Disclaimer for skincare products: We recommend that you read labels, warnings, and directions of all products before use. Please review the ingredients list and patch test before full application. Individual results may vary.
If use causes an adverse skin reaction, discontinue use immediately, and see your doctor or pharmacist if no relief comes from rinsing the affected area with cool water.