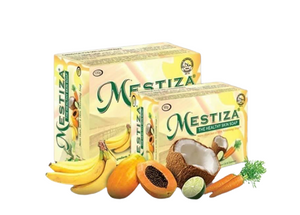 Description:
Mestiza Soap "The Healthy Skin Soap"
MESTIZA soap is a natural soap with natural ingredients like papaya, carrots, calamansi, banana and virgin coconut oil. These ingredients altogether are beneficial for our skins softness, tightness & freshness.
It also exfoliates the dirt and oils in our skin thus clarifies our skin and making it look clearer, white with a healthy glow. This is also the reason why MESTIZA is not just a skin whitening soap but coined as "The Healthy Skin Soap".
Product weight: 125 g
How to use: Use as facial and bath soap. Apply soap on skin. Allow it to stay for a minute before rinsing.
Disclaimer for skincare products: We recommend that you read labels, warnings, and directions of all products before use. Please review the ingredients list and patch test before full application. Individual results may vary.
If use causes an adverse skin reaction, discontinue use immediately, and see your doctor or pharmacist if no relief comes from rinsing the affected area with cool water.