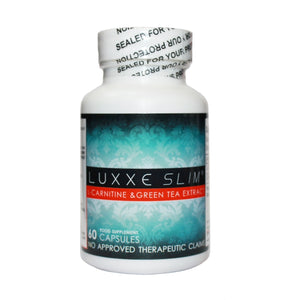 WANT TO AVAIL LIFETIME 50% DISCOUNT ON THIS PRODUCT? SEND US A MESSAGE. 
Description: 
What is Luxxe Slim?
LUXXE Slim helps transport fatty acids into energy-producing units of the cells, turning fat into energy.
The L-Carnitine content is also essential to your body.
Luxxe Slim Benefits
NON-LAXATIVE slimming supplement.
Frontrow Luxxe Slim's Green Tea content detoxifies the body while promoting youthful and radiant skin.
Luxxe Slim also decreases fat levels.
Luxxe Slim is a supplement for weight management. Frontrow Luxxe Slim is designed for individuals who want to shed pounds and gain a sexy, fit and healthy body.
Frontrow International Luxxe Slim is made naturally with only 2 ingredients that urges the users to burn fat and use it as energy.
It is non-laxative and can be used by both men and women that are trying to lose weight.
The supplement is in a vegetable capsule, and one capsule is 500mg. Luxxe Slim is made from two ingredients, these are:
L-Carnitine 350mg (amino acid)
Green Tea Extract 150mg (plant)
How to take Luxxe Slim:

Luxxe Slim is to be taken with 8 to 16 oz. of water. It is to be taken by mouth.
It is recommended that the supplement be taken when the user is physically active.
Recommend working out or doing some household chores for 15-20 minutes after taking the supplement.
The supplement works best when the user is physically active.
Take one or two capsules each day.
Then Take one capsule 30 minutes before your morning meal.
Then take the second capsule 30 minutes after lunch.
If you work out, take 1 capsule before your workout session and 1 capsule after a workout.
Luxxe white and Luxxe slim can take together.
Not suitable for pregnant and lactating women. Consult your physician first. 
Disclaimer for supplements: 
For adult use only. Keep out of reach of children. Not intended for children, pregnant, and lactating women.

If you are taking medication, consult your doctor before use.

Please consume 1-2 glasses of water after drinking the supplement.

No approved therapeutic claims.