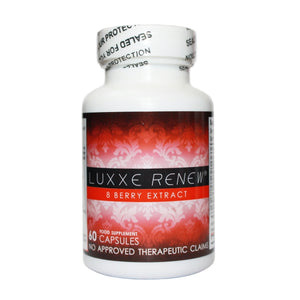 WANT TO AVAIL LIFETIME 50% DISCOUNT ON THIS PRODUCT? SEND US A MESSAGE.
Description: 
How does it work?

Luxxe Renew is an innovative mega capsule that has compacted 8 SUPERFOODS into one 1 mega capsule (per serving). LUXXE RENEW is a mixture of Acai, Pomegranate, Goji, Mangosteen, Noni, Cranberry, Blackberry and Blueberry. These 8 essential berries contain high amounts of anti-oxidants that may help protect cells from damage caused by free radicals from foods that we eat and environmental factors such as pollution, harmful sunlight, smoking and alcohol. 
Ingredients
Acai Berry Extract 100mg
Goji Berry Extract 100mg
Mangosteen Extract 100mg
Pomegranate Extract 100mg
Noni Fruit Extract 100mg, Cranberry Extract 50mg
Blueberry Extract 25mg, Blackberry Extract 25mg
Bonus tips to get the best out of your Luxxe RENEW 8 BERRY EXTRACT capsules
Be consistent with taking one capsule in the morning and evening, every day.
Drink plenty of water
Get enough beauty/handsome sleep
Drink more green tea
Using an anti-aging cream will help to maintain youthful skin
Reduce intake of salt and alcohol
Indications/special precautions:
As with all supplements pregnant and nursing mothers should consult their physician before taking new medication/supplements.

How to use: Take 2 capsules daily, (1 in the morning and 1 in the evening) with 8-16 ounces of water. 
Disclaimer for supplements: 
For adult use only. Keep out of reach of children. Not intended for children, pregnant, and lactating women.

If you are taking medication, consult your doctor before use.

Please consume 1-2 glasses of water after drinking the supplement.

No approved therapeutic claims.