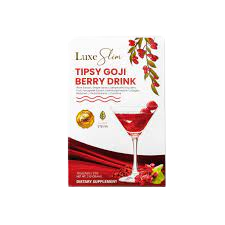 Description: Tipsy Goji Berry Drink has a real dehydrated Gojiberry fruit which makes it flavorful and healthy at the same time. It has the powerful benefits of Fenugreek Extract, Chamomile and Valerian Root that relieves stress, reduces anxiety, helps us get a better sleep and good for our digestive system. This drink is also formulated with L-Glutathione and Hydrolyzed Marine Collagen than can give us a glowing whiter skin and can defeat any signs of aging. If your are after with beauty and wellness, this drink is just perfectly right for you.
DEHYDRATED GOJI BERRY FRUIT This fruit offers high amounts of Protein, Vitamin A, Vitamin C, Riboflavin, Potassium, Iron, Magnesium, Copper, and Zinc. Goji also provides high levels of many Antioxidants, but especially Beta-carotene and Zeaxanthin. Goji is related to the tomato, potato and eggplant, and offers many of the same antioxidants.
Product weight: 
How to use: 21 g per sachet
Disclaimer for skincare products: We recommend that you read labels, warnings, and directions of all products before use. Please review the ingredients list and patch test before full application. Individual results may vary.
If use causes an adverse skin reaction, discontinue use immediately, and see your doctor or pharmacist if no relief comes from rinsing the affected area with cool water.