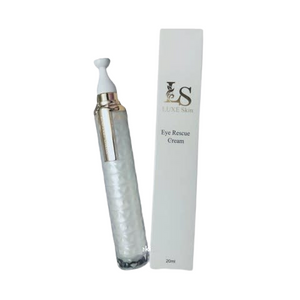 Description: 
Luxe Skin by Anna Magkawas Eye Rescue Cream
Introducing "Luxe Skin Eye Rescue Cream"
Don't let your dark circles and wrinkles sink in. Apply Luxe skin eye rescue cream today.
Luxe Skin Eye Rescue Cream is formulated with Ceramide, Sodium Hyaluronate, Niacinamide and 10 other phyto-actives that delivers
- Hydration
- Minimizes the look of puffiness
- Prepares your skin for make up
- Reduces the appearance of dark circles, wrinkles and fine lines
- Soothes tired eyes

Product weight: 20 g
How to use: Apply a small dot under the eyes. Using the ring finger, gently tap the product using an upward motion until it is absorbed by the skin.
Disclaimer for skincare products: We recommend that you read labels, warnings, and directions of all products before use. Please review the ingredients list and patch test before full application. Individual results may vary.
If use causes an adverse skin reaction, discontinue use immediately, and see your doctor or pharmacist if no relief comes from rinsing the affected area with cool water.