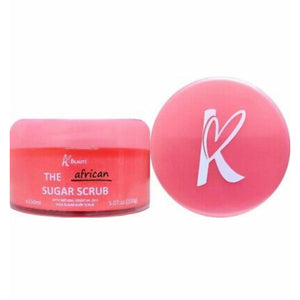 Description:
This non-greasy sugar scrub gently exfoliates, smoothes the skin with 5 nourishing oils, including jojoba oil, sunflower seed oil, avocado oil, mineral oil and almond oil, for maximum hydration. An aromatherapy blend of essential oils and natural ingredients enhances body, mind and mood.
Product weight: 150 g
How to use: 
Apply an ample amount on the desired area.

Rub it on your skin in a circular motion, if you are using it on your face you can apply it while doing face massage. Do it for 1-2 mins.

Leave it on your skin for 15-30 mins. Leave it longer as you desire.

Wash your body/face with soap.

Moisture your skin with light lotion.
Disclaimer for skincare products: We recommend that you read labels, warnings, and directions of all products before use. Please review the ingredients list and patch test before full application. Individual results may vary.
If use causes an adverse skin reaction, discontinue use immediately, and see your doctor or pharmacist if no relief comes from rinsing the affected area with cool water.