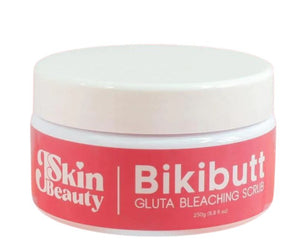 Description:
Introducing this whitening bleaching scrub from J Skin Beauty Cosmetics & Skin Care!
This will be your best friend in achieving brighter and whiter skin, especially in those areas down there. Its scent is also very sweet and its consistency is similar to creams (only with a few sandy scrub beads) far from those harsh salt scrubs you'd see on the market.
Bikibutt Gluta Bleaching Scrub exfoliates skin as you cleanse, letting you enjoy a double whitening effect. Safe for everyday use, this creamy shower staple helps you optimize the benefits of your tone-up cream by giving a non-drying but thorough cleanse while also delivering long-term skin lightening.
Lightens dark areas & scars
Smooth creamy consistency
Vanilla-like scent
Effective exfoliant
Whitening
It's time to invest in your skin with Bikibutt, it is going to represent you for a very long time!
This product is designed with premium active ingredients for all skin types, even the most delicate and sensitive skin. It will be regenerated for a youthful and radiant appearance living your skin nourished and hydrated with non-drying feeling!
Product weight: 250 g
How to use:
Rinse your skin in warm water.
Put a small amount of body scrub in your hand.
Gently rub it on your skin in small circular motions, using your hand or an exfoliating glove.
Scrub your skin gently for no longer than 30 seconds.
Rinse your skin liberally with lukewarm water.
Disclaimer for skincare products: We recommend that you read labels, warnings, and directions of all products before use. Please review the ingredients list and patch test before full application. Individual results may vary.
If use causes an adverse skin reaction, discontinue use immediately, and see your doctor or pharmacist if no relief comes from rinsing the affected area with cool water.