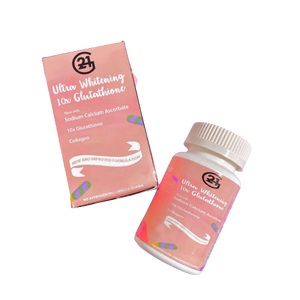 Description: 
Glutathione lightens your skin in two ways.

Glutathione lowers the production of melanin in your skin. Melanin is a substance that gives your skin, eyes and hair its color.

Glutathione also causes your body to produce lighter skin tones, rather than darker skin tones. 

By lowering your skin's melanin production and by your skin producing lighter tones, your skin will begin to appear like its original tone without the sun blemishes. If you want to know what your original skin tone looks like, take a look at your inner arms.



Anti Aging:
The most common cause of skin aging is photoaging. Photoaging is caused by repeated exposure to UV light from the sun. UV rays produce a substance called free radicals which damage our skin cells and causes early aging.

This typically results in:

Wrinkles and fine lines

Uneven pigmentation resulting in things like •freckles and age spots

Loose rough skin

Visible capillaries
Product weight: 150 g
Disclaimer for supplements: 
For adult use only. Keep out of reach of children. Not intended for children, pregnant, and lactating women.

If you are taking medication, consult your doctor before use.

Please consume 1-2 glasses of water after drinking the supplement.

No approved therapeutic claims.