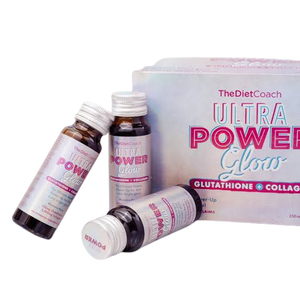 Description: 
The Diet Coach's latest addition to its Ultra line of super supplements and your new go-to beauty power-up! It's a sugar-free drink that combines Collagen AND Glutathione to make you glow from the inside out and take your skincare to the next level.
Product weight: 50 mL x 8 bottles
How to use: Take the contents of the whole bottle and expect Ultra desirable changes in your skin, hair and even nails! Watch out for immensely moisturized and plump looking skin. Take 1 bottle a day for best results. A bottle a day, keeps the skin Ultra Okay! 

Disclaimer for supplements: 
For adult use only. Keep out of reach of children. Not intended for children, pregnant, and lactating women.

If you are taking medication, consult your doctor before use.

Please consume 1-2 glasses of water after drinking the supplement.

No approved therapeutic claims.