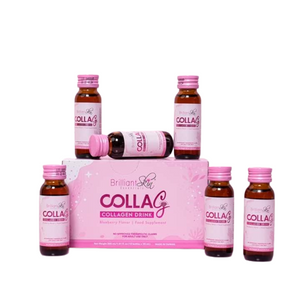 Description: 
Make a habit of drinking Colla G every day to stay healthy and radiant.
What's inside:
Japan Marine Collagen - Support skin elasticity and hydration
Baobab Extract - Improve skin moisture content and cell vitality
Kiwi Seed Extract - Improve wrinkles and skin pigmentation and regulate skin sebum and anti-acne
Blueberry Tea - Stimulate hydration gene expression
Hyaluronic Acid - Improve skin moisture. Strengthen skin barrier
What makes it powerful? It's because of its natural and premium ingredients!
Keep your skin hydrated and fresh by drinking Colla G Collagen Drink!
Helps reduce wrinkles
Improve skin elasticity
Helps skin rejuvenation
Product weight: 10 g each x 6 pcs
How to use: 
Disclaimer for skincare products: We recommend that you read labels, warnings, and directions of all products before use. Please review the ingredients list and patch test before full application. Individual results may vary.
If use causes an adverse skin reaction, discontinue use immediately, and see your doctor or pharmacist if no relief comes from rinsing the affected area with cool water.