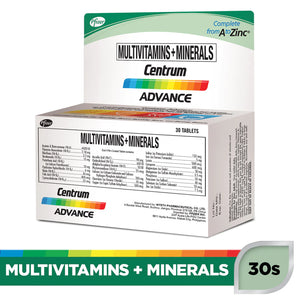 Description: 
Centrum Advance Multivitamins + Minerals 30 Tablets Bottle
Multivitamins+Minerals (Centrum Advance) is specially formulated to help protect your entire body with a wide range of vitamins, minerals, and antioxidants.
Product weight: 30 tablets
Disclaimer for supplements: 
For adult use only. Keep out of reach of children. Not intended for children, pregnant, and lactating women.

If you are taking medication, consult your doctor before use.

Please consume 1-2 glasses of water after drinking the supplement.

No approved therapeutic claims.