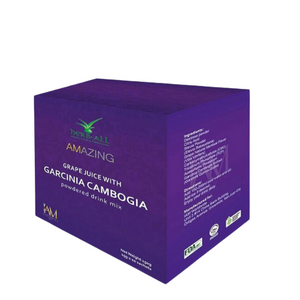 SEND US A MESSAGE IF YOU'RE INTERESTED IN LIFETIME 50% DISCOUNT WITH THIS PRODUCT.
Description: 
Amazing Grape Juice with Garcinia Cambogia is revolutionary fat burner and breakthrough in natural weight loss.
Main Ingredients:
Grape extract
Garcinia Cambogia extract
Stevia
Product weight: 15 g x 10 sachets
How to use: Drink our Amazing Grape Juice on an empty stomach 30 minutes to 1 hour before the meal. Mix it with 160 ml to 180ml of water and add ice if desired. Stir for 30 seconds until all contents are dissolved.

Disclaimer for supplements: 
For adult use only. Keep out of reach of children. Not intended for children, pregnant, and lactating women.

We encourage you to use this product to attain your weight goal and ease yourself into a steady, permanent healthier lifestyle.

If you are taking medication, consult your doctor before use.

Please consume 1-2 glasses of water after drinking the supplement.

No approved therapeutic claims.
love the taste
Tastes like a normal juice. I like that it doesn't make you poop all the time and that the effect is only fat-burner which suits my work.